Latest Updates Featuring Pierce Paris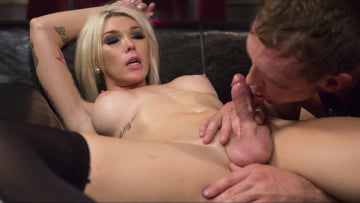 19th September
- We start in a dilapidated room somewhere hidden in a dark and evil church. In tight black latex pants, leather motorcycle boots, and a white priest's
collar, Father Pierce Paris kneels at a pew deep in prayer when suddenly Sister Aubrey Kate interrupts entering the scene looking dangerously sexy wearing a tight short black latex outfit looking like an evil slutty nun. Sister Kate grabs Father Paris by the harness and yanks him close and tells him she knows all the naughty things he's been doing in his spare time. When Father Paris denies the allegations Sister Kate chokes him with a flogger and tells him to suck her cock for lying to her. Sister Kate sits on the pew in front of him and pulls her white panties to the side. Father Paris sucks her cock deep and fast with enthusiasm in hopes to be forgiven. She turns around and buries Father Paris' face deep in her ass. Sister Kate then wants Father Paris' cock in her mouth so she deep throats his huge cock all the way down her throat, sucking him off while jerking her own cock. More punishment ensues for Father Pierce Paris as Sister Aubrey Kate brings a lit candle over and pours hot wax all over Father Paris' muscular chest and cock and then pours wax on her own milky white round ass. With Sister Kate's dick rock hard, she gets naked and bends Father Paris over. She fucks his ass deep and hard sending pounding echoes of skin-slapping-skin throughout the church as a warning to those that dare lie to the Reverend Mother. Sister Kate then gets comfortable and lays on a chez lounge and makes Father Paris get on top of her to ride her dick. Wearing only a leather harness, Father Paris bounces on her cock enjoying every inch. Sister Kate then flips him over, grabs on to the leather harness on his chest and furiously fucks the cum right out of him.
...Read More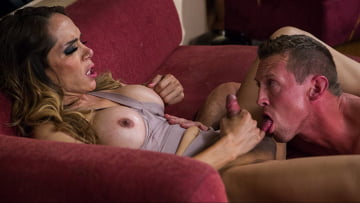 11th July
- Even the most seasoned of performers can get nervous. When the jitters come, some people reach for a drink or maybe take some deep breaths but for the
tall TS goddess Sofia Sanders there is only one thing that can help her relax: FUCKING! Lucky for her Pierce Paris is all too willing to do whatever it takes to help a lady get ready for her performance. Sofia drags Pierce to her with a raw magnetic sexual pulse that instantly makes his cock rock hard. She lets him slowly worship her body, and Pierce showers her with kisses and the softest of touches. Once Sofia knows that he is hers to command she takes out her huge cock and stuffs it down his throat. Pierce devours her stiff rod and begs Sofia to plunge deeper into his willing throat. Tired of his pathetic attempts to please her, Sofia then flips her hung little bitch over and begins to probe Pierce's hungry asshole with the long hard strokes of her massive cock. Pierce moan with ecstasy and begs his mistress to peg him harder and faster. Sofia slaps her submissive man's ass and begins to probe his tight hole with her fingers. Pierce's hungry hole devours her whole fist and as Sofia internally massages his prostate while he drools and gasps, enraptured in speechless bliss. She begins to pull her fist in and out of his willing asshole and his eyes roll back into his head and he pleads with her to not stop. And just when he can't take another moment of the anal penetration Sofia drags him to the floor and jams her cock back into his mouth and cums all over his face. Pierce licks her cock clean and thanks her again and again for her generosity. Pleased with his devotion, Sofia then sucks his cock and edges him towards release. And in one last breathless moment of ecstasy, Pierce blows his load all over himself and collapses in sweaty heap into the loving arms of his goddess. Sofia Sanders fucks and fists her bronzed and hung slave in the ass and cums all over his face!!
...Read More